Adding custom 3d-Models for modded districts.
By Duskendawne
This guide will show you how to add a custom model for modded districts. I will show both how to add a model for a wonder, as well as a model for an emblematic quarter for a modded culture.
Since the process is very complicated, I will provide both a zip file containing templates for all the files you will need, as well as an example mod which you can reference when needed.
I will provide screenshots for every step, as well as examples from existing mods I have made.
If you need any help, you can contact me on Discord: 𝕕𝕦𝕤𝕜𝕖𝕟𝕕𝕒𝕨𝕟𝕖#1569
First Steps
before you can add your model to the game, you need to get a model to use. These models require specific UVs and textures to work, so I suggest you contact me, so I can make the model for you.
Unfortunately, you have to use existing materials and textures for custom models, so what I do, is I find an existing texture in the game to use, and then screenshot it, so I can map different parts of the texture onto the model.
For this guide, I made this model of the Dome of the Rock, which I will add into a mod as a new wonder: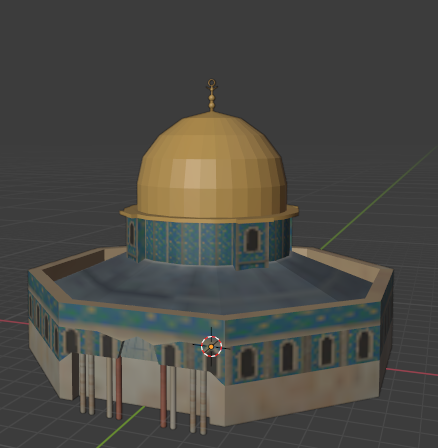 For this model, I used the texture used by the Umayyad, Ottoman, Mughal, and Persian Main Plazas and Emblematic Quarters.
Adding the template to your mod
Now that you have a model you can use, you can start adding it to your mod. To do this, download the project file containing all the files you will need for this guide. Open the file, and move everything from the project file to your mod: