Intro
Hi again girls and boys, I'm sharing another map today!
This time I wanted to join the "Earth map-race" but bringing some utopian designs, as you can tell indeed Atlantropa isn't really a concept of my personal fantasy labyrithic mind!

I'll quote you this statement from wikipedia, then I'll write some more info for a better context:
Atlantropa, also referred to as Panropa,[1] was a gigantic engineering and colonisation idea that was devised by the German architect Herman Sörgel in the 1920s, and promoted by him until his death in 1952.[2][3] The project was devised to contain several hydroelectric dams in key points of the Mediterranean Sea, such as the Strait of Gibraltar and the Bosporus, to cause a sea level drop and create new land to settle. It had been proposed as a peaceful Pan-European alternative to the Lebensraum concepts in Nazi Germany.



Basically what if Earth shaped itself after billion years of natural transformations of land & sea into Atlantropa/Panropa?
This scenario I shaped has been made possible by the amazon videos series Tha Man in The High Castle (also based on the homonymous book written by Philip K. Dick) that I've seen like a month ago. I knew little about Sörgel and his dream of "peaceful european imperialism", but I found it fascinating.
Considering it in a less biased way and more politically progressive by correct means, I've come to this map "handmade" (by the Map Editor, not by drawing on paper I mean) design that i really wish to improve with our community in balance terms and resources spreading (also, I've done a focussed work around the new mediterrean plain)!

There are many other changes that I'll explain below.
---
Map Details

Making this kind of terraform made the Huge size 150x88 map kinda different from current Earth shape. I had to imagine (taking also many artistic liberties) how a natural dam on Gibraltar and one on Dardanelles could have affected the Atlantic Ocean and beyond. I made North Pole a little bit more dense and compact, I made Atlantis (eheheheh) arisen from the ocean and I just submerged the Panama Istmo making more isles emerging in heights or being submerged aswell!

As for map balance and players spawn I imagined that letting Atlantropa as a "Cradle of Humankind" it could have been more fun and competitive in early stages. It means of course that there will be many "new worlds" to discover outside of the macro-continent of Atlantropa!

In the project there are a series of canals and lagoons; to represent them as natural I have chosen to make long lakes stretching in areas marked by Sörgel and others engineers. Thanks to Cheeseman21 for asking , I'll try to explain also that the Nile had a similar rapresentation and the Sahara desert is actually fertile!

Actually my main file is on version 1.1.3

F.A.Q


Q. Why there is a Weapon deposit while I am in the Neolithic Era?
A. If you find it you gonna guess the reason why is it there... ;)

Q. Why my map is so deformed and different from preview?
A. This map should be played as Huge 8 Players (honestly I wish we could be able to get even more players for such a great scenario). So check that you have picked HUGE size in the game rules page before starting the game. Also It could be a previous map file, check the changelog in the left UI of MOD IO or select the primary file at the end of this page before comment section!
---
Spawn Points (03/09/21 note: due to some mod.io personal image folder maximum size issue, I cannot update the following image to the currently live Map Version)
All Starting points (as previously said, the moshpit is intentional)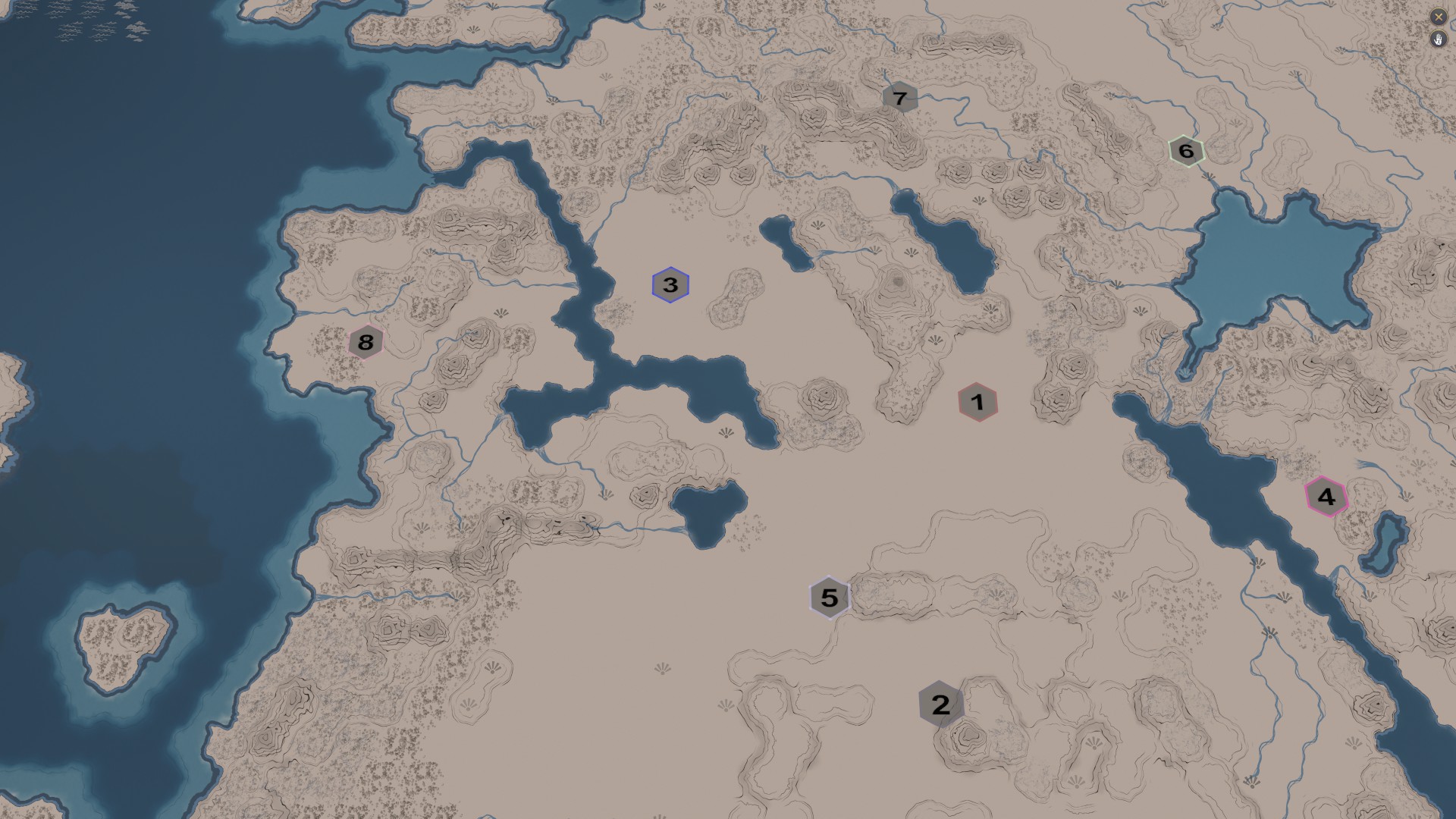 ---

How to install

- Download the .zip file below
- Right click on the downloaded .zip folder and then extract it
- Search for User/Documents/Humankind/Maps folder
- Place the .hmap file in it
- Launch the game, select custom map with a simple check-button and enjoy!
---
Customize Player Spawn
1. Head into the main menu of Humankind and then Extras > Community > Map Editor
2. Click the pencil button on the Map you wanna edit
3. Once in the Editor you can click the flag symbol that says Spawn Points on the centre-left
4. Remove a point by holding down the right mouse button on a tile that is next to the starting point you want to remove. Then with the button pressed hover your mouse over the tile where the starting point is (this works for every tile in the editor)
5. Next you can add your own Spawns. For more information, see III. PLACING STARTING POINTS in the Humankind Map Editor Manual
6. In the end click the top left button that says 'Save As'. Preferably save it under a different name ( like "PANROPA is a better name Better Start Pos").
---
Amplitude Contest
Hopefully someone will enjoy my mod, I've applied to the contest and I'll make more maps for it and even further to the future of our journey into this wonderful videogame.


Also If I will get another game edition by winning any related prize containing it I will make a small random contest with supporters to gift it since I already own the game copy on steam! :)

Check my others Detailed Fantasy maps:
Check also my collab with Prof.Walter:P
---
Contact me

If you wanna get in touch, you may find me there:

Steam Steamcommunity.com
Discord Tyrant#3480
Humankind Persona Games2gether.com
---
Credits
Thanks to Amplitude Studios that made me going full-productive during this period, I also should thanks prof. Herman Sörgel for this absurd terraforming project 100 old-ish.

Also to the italian Youtuber Nova Lectio for his explanation on the linked video.