This is version 1.4 of my Huge Accurate Earth map - winner of the Community Choice Prize in the Humankind Map Creation Contest! The goal is to make a map for Humankind that precisely resembles our home planet when it comes to biomes, terrain, coastlines, elevation, natural wonders, resources and much more. The map was not necessarily created with balanced gameplay in mind though it is obviously supposed to be fun. With the help of your feedback, I will try to improve it as much as I can.
Installation
1. Download the .zip file in the release tab at the end of this description
2. Right click on the downloaded .zip folder and then extract it
3. Open the extracted folder and place the file Huge_Accurate_Earth_r1.4.hmap in Documents\Humankind\Maps
Once this is done you should be able to select Huge_Accurate_Earth_r1.4 as a map when you start a new Humankind game.
Starting Points
As of now the maximum number of players is 8. I placed 8 more or less balanced starting points on the continents Africa, Asia and Europe. The other territories (Americas, Oceania and a bit of Antarctica) are basically the New World waiting to be explored.
When you are playing a single player game on my map, you will always start in position 1 in the bottom of Africa. If you want to start in another of the positions that you can see in the image below, change to a multiplayer game and click the join button in the slot that you want to play in. The first slot in the top left is obviously starting position 1, the slot to the right side of that starting point 2 and so on.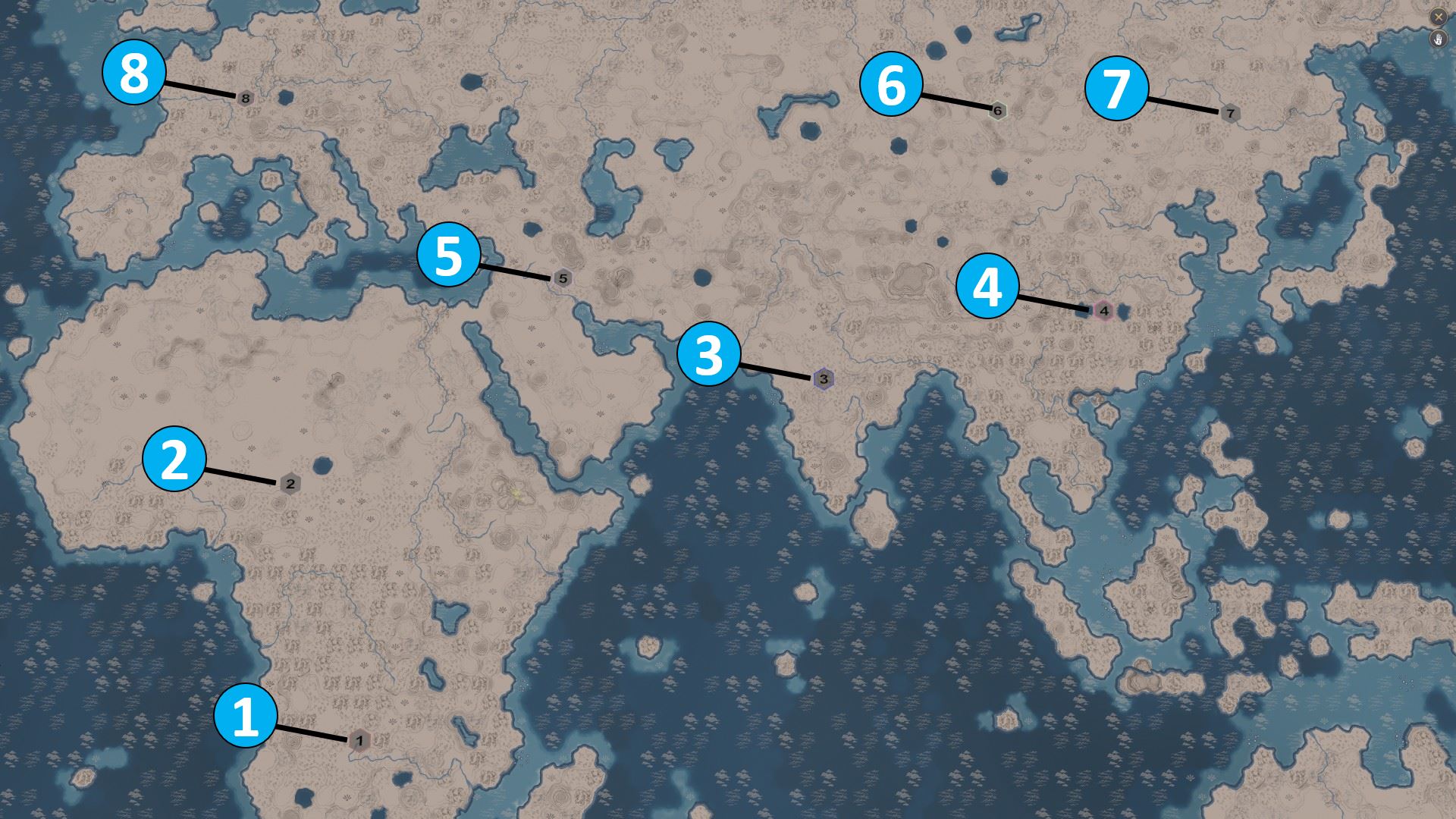 If you don't like these Starting Points and want to rearrange them:
(0. Install the mod via the Installations instructions above)
1. Head into the main menu of Humankind and then Extras > Community > Map Editor
2. Click the pencil that is on the right side of Huge_Accurate_Earth_r1.4
3. Once in the Editor you can click the flag symbol that says Starting Points on the centre-left
4. Remove a starting point by holding down the right mouse button on a tile that is next to the starting point you want to remove. Then with the button pressed hover your mouse over the tile where the starting point is
5. Next you can add your own Starting Points. For further information, see 'III. PLACING STARTING POINTS' in the Humankind Map Editor Manual: Humankind.mod.io
6. When you are finished, click the top left button that says 'Save As'. Preferably save it under a different name (e.g. Huge_Accurate_Earth_r1.4_Custom). Now you can exit the Map Editor and when creating a new game you should be able to select your map.
Possible Improvements
A few things that I want to work on in the future:
Improve the elevation so that every tile is accessible. I tried to fix as much as possible but there might still be mistakes.
Improve the placement of resources. The placement of resources might not be balanced perfectly in every area. They were placed where they really are, for example oil on the Arabian Peninsula. As previously mentioned, it is meant to be this way, but some areas may still be too unbalanced which I want to improve in future versions.
Improve territories. Territories loosely resemble present day borders right now with smaller countries combined and larger countries split in pieces. Each territory might be too large / small so I will try to work on that.
Increase max players to 10 (or to whatever the highest possible number is) and update Starting Points. Right now, the highest number of players on custom maps is 8. In case this is changed I'm glad to update this map.
Improve the region around the Bering Strait (East Russia and Alaska). That region was stretched a lot when I used the heightmap because it was a Mercator projection. That region doesn't look as good as the rest but this is not my main focus right now.
Trivia
In case anyone is interested on how I made this map: I used the following heightmap and created a colour palette for it. I cropped out antarctica a lot because it is just way too large. I made Europe a bit bigger to properly display it and for gameplay reasons. Once the coastlines looked satisfying I placed the territories, natural wonders, terrain, natural modifiers and so on. Next step was to place the resources. I tried to gather as much information as possible on where the resources can be found on our planet though it is not entirely perfect. All in all it took me roughly ~30 hours to create this map. The Map Editor needs some improvement but still it is a fantastic tool to use and I had lots of fun creating the beautiful landscapes our planet has to offer.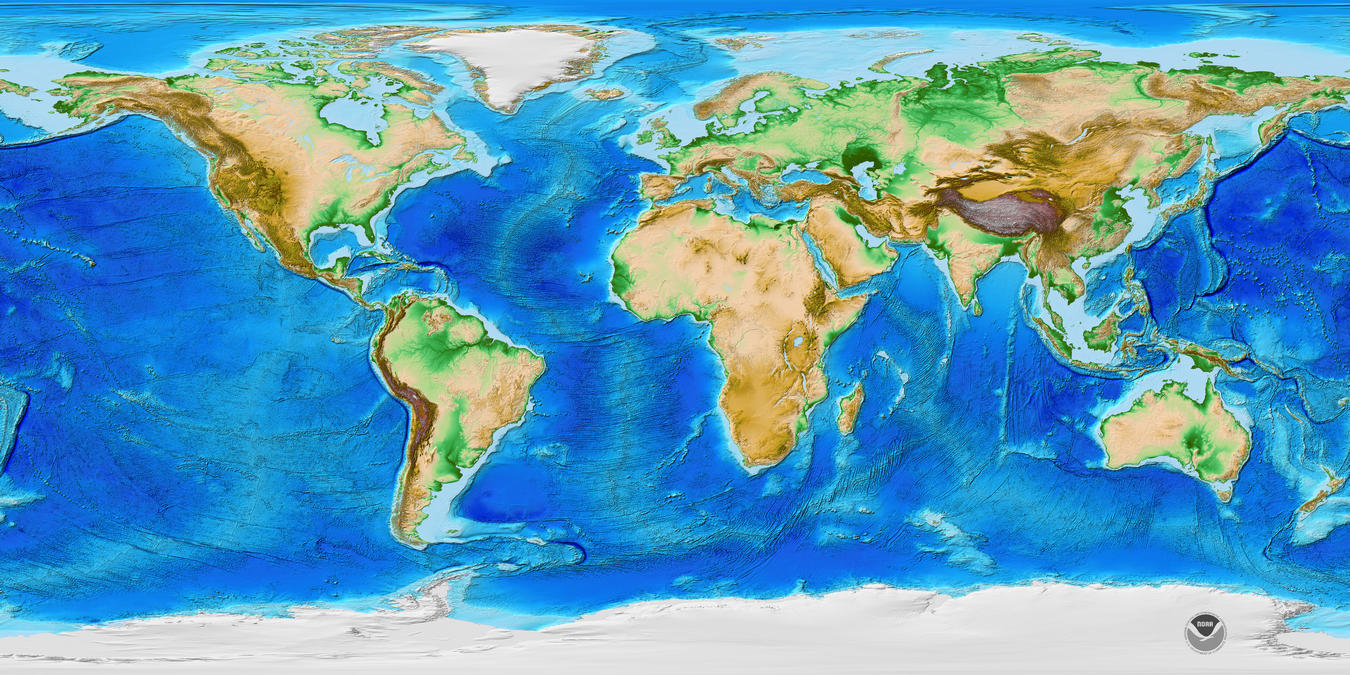 Credit:
NOAA National Geophysical Data Center. 2009: ETOPO1 1 Arc-Minute Global Relief Model. NOAA National Centers for Environmental Information. Accessed 2021-08-21.
Amante, C. and B.W. Eakins, 2009. ETOPO1 1 Arc-Minute Global Relief Model: Procedures, Data Sources and Analysis. NOAA Technical Memorandum NESDIS NGDC-24. National Geophysical Data Center, NOAA. doi:10.7289/V5C8276M Accessed 2021-08-21.
Download the full sized image here: Ngdc.noaa.gov
Thanks
Thanks to my brother for helping me out with the presentation. Thanks to Amplitude Studios for giving us this great game called Humankind and the Map Editor (the import tool is a lifesaver <3).
Many thanks to XIVIX, rebelegy, Hrodric1632176686 and mumfodav14 for giving feedback to my map! If you want to contribute to my map as well: let me know if there is anything you want changed in this version of the map. I look forward to improving it.