I'm working on a Huge Earth map!
Updated with 10 players version and Europe start.
Goals

- The idea is to make a map inspired by Earth, but tweaked to make regions visually interesting, with more cliffs, passes and nice visuals. That said, it should be too far off the real world.
- The Americas work as a New World, no start points there, and no horses.
- Region-wise, the goal is to make every region have something, whether it be a wonder, a luxury or a strategic. It's not a hard rule, of course.
- It has a lot of strategic resources, I want to see how the game plays out with it (especially the AI). Early on you'll get one of each most probably, you'd have to expand to get two, and trade or fight to get 3+ (or explore the whole world).
- Luxuries in the regular map are in the range of 1-5 each, depending on the strength of the bonus, and all 20 luxury types are placed. Some will be all in a region of the world, others all over the globe.
Installation

Download and extract the attached zip to:

Documents\Humankind\Maps

When starting a new game, go to maps and it should appear there.
TSL

While TSL is impossible, what you can do is assign the historical personalities to the corresponding slots. And you know, maybe every now and then the cultures match with the location! As for the player, it starts in slot 1, but you can make a local private multiplayer game and assign your player on the slot from the map below.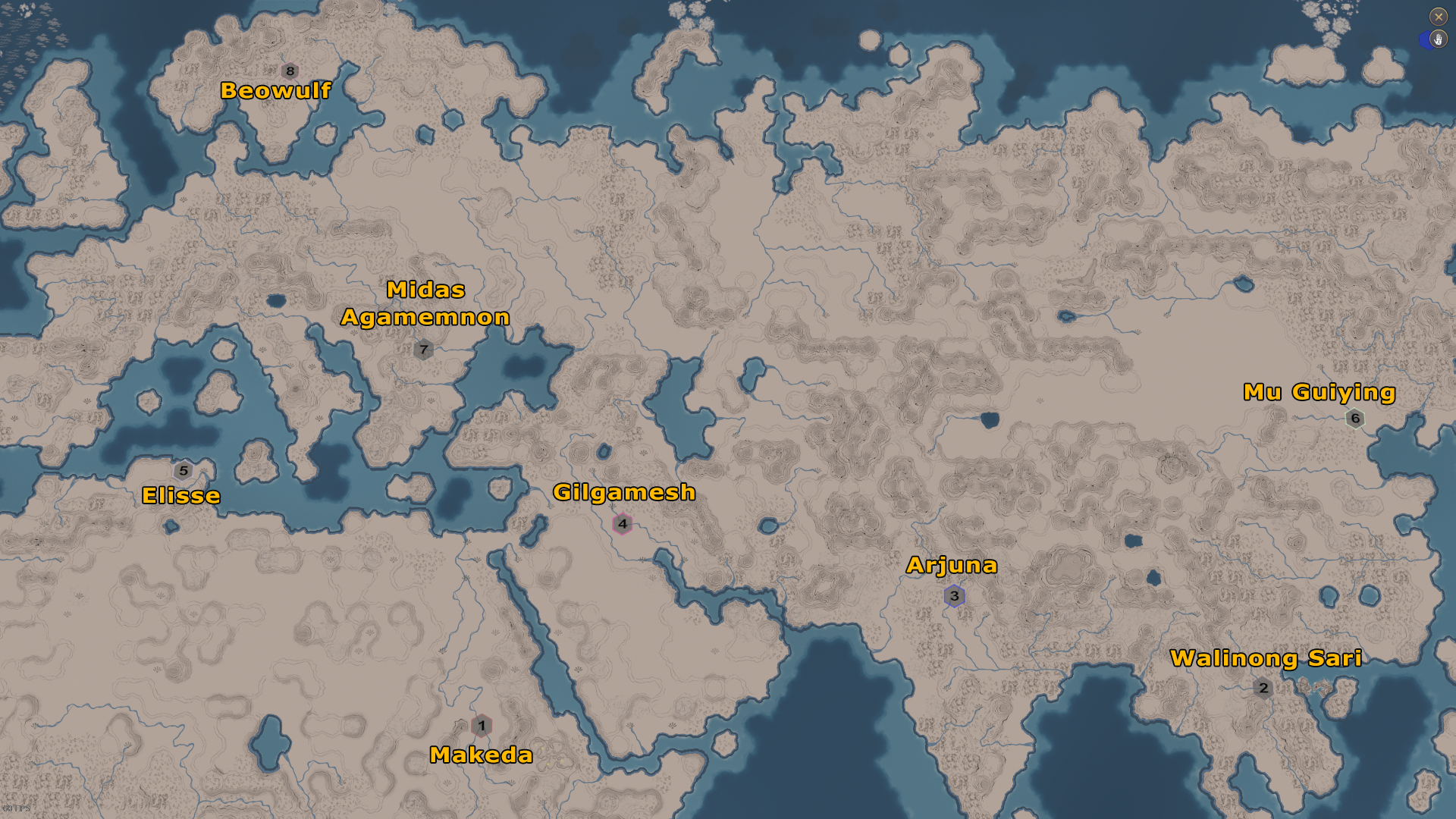 Also, there is an alternate version in which there's only one copy of each luxury resource (and an extra one for 5 of them on the new world). So 25 luxury total. Stability will be a lot harder to manage! Plus the yield pace will slow down a bit. I personally enjoy this one quite a lot, but be warned it's a challenge and you know to use all the stability tricks in your arsenal (hint: A single army per city adds 5 stability for each unit it has, so keep a garrison!).